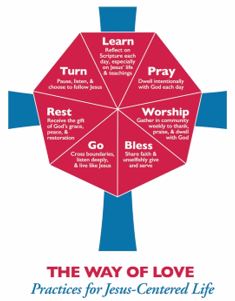 Every year as we approach the season of Lent, I find that I really need Ash Wednesday. There is something very powerful about having the sign of the cross traced on my forehead and hearing that I am dust and to dust I shall return. I actually find great comfort in this annual declaration of my sinfulness and mortality. It reminds me that I am not God, and neither is anyone else, except God. That should be obvious, and yet the ways we cling to control (or rather, the illusion of control) would suggest we all need this reminder from time to time. Ash Wednesday is February 26. We will offer services that day at 8:00 AM, noon, and at 7:00 PM. I hope you will come.
None of us is God, but we ARE God's disciples-followers of Jesus, who taught us to love as he loved. This year, during Lent, I invite you to explore something called the Way of Love. Our Presiding Bishop Michael Curry has asked every Episcopalian to learn about The Way of Love, which is a modern version of what's called a Rule of Life.
A Rule of Life is a commitment to live your life in an intentional way. A Rule of Life differs from goals or resolutions. Those methods are task-based and measurable, and they're often focused on what we do. A Rule of Life, on the other hand, helps you become, not achieve. It is not lived perfectly but can be lived faithfully.
The Way of Love is a Rule of Life that centers on seven spiritual practices which are the essentials of Christian discipleship: Turn, Learn, Pray, Worship, Bless, Go, and Rest. This will be our topic for Adult Forum this Sunday February 23. Come to the nave at 9:20 and learn more about the Way of Love and how it might serve to reorient and refocus your spiritual life as we enter the Lenten season next week.
Yours in Christ,
Carmen
Categories: None