Hobart Park is the unofficial halfway point between my house and the church building. It's a shaded picnic area near the Baker entrance to Davidson College campus. The park's primary feature is a labyrinth. I've taken to cutting through campus a certain way so I can visit the labyrinth on my way to check on things at church and bring in the mail. I know I could drive to 301 Caldwell Lane much faster, but I need the exercise, and--let's be honest--the time alone.
These days, walking the labyrinth is exactly the spiritual discipline I need. It requires just one thing of me—trusting the path. For a few minutes, I can quiet my mind and have no other task than to put one foot in front of the other and walk. There are no choices to make, because there's only one way forward. Right now, when even a trip to the grocery store feels like a life-or-death decision, it's a gift to have no decisions to make for a little while. When I reach the center, I stop and talk to God, who has been a very patient listener. My prayer list is long and scattered these days: my family, all of you, healthcare workers, those who are struggling financially, those who are lonely…the list goes on and on. Then, the way back out is the same as the way in.
I was chatting with some clergy colleagues recently, and one of my friends mentioned something that rang true for me as well. She said that in this season when everything is screen-based (virtual school, virtual staff meetings, virtual worship, even virtual coffee hour (check out the rest of the newsletter!) our brains can start to feel a bit like computer screens with too many tabs open. The whole system runs slower until you click the X in the corner on some of those windows. I'm truly grateful for technology as a means of connection right now, but it takes a toll on us, and we might not even be fully aware of it.
The labyrinth helps. There's nothing digital about it. Labyrinths have a long history as tools for prayer and meditation, and are often incorporated into sacred spaces such as cathedrals. The circular design represents wholeness, while the meandering path to the center represents life, the journey. While labyrinths have been used in many different faith traditions, as a Christian, I find deep meaning in walking, remembering that Jesus walked almost everywhere he went. I deeply admire Rev. Kevin and others who do Centering Prayer, and I'll admit to a touch of jealousy too. But I'm not a natural contemplative…I've never been able to sit still that long! And so I walk.
For those for whom walking is not an option, I recommend a finger labyrinth. Same idea, just on a smaller scale. There are some nice ones available for purchase on Etsy.com, or a more affordable option is to print out a paper copy and trace the path with your finger.
What spiritual practices are helping you right now? I'd love to hear about them.
Yours in Christ,
Carmen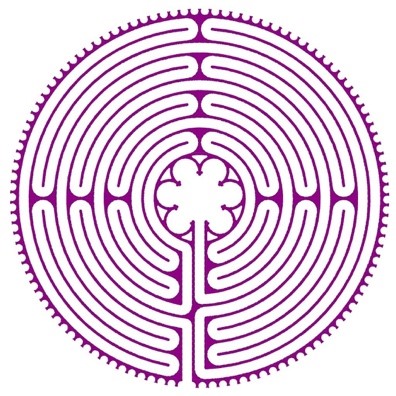 Categories: None